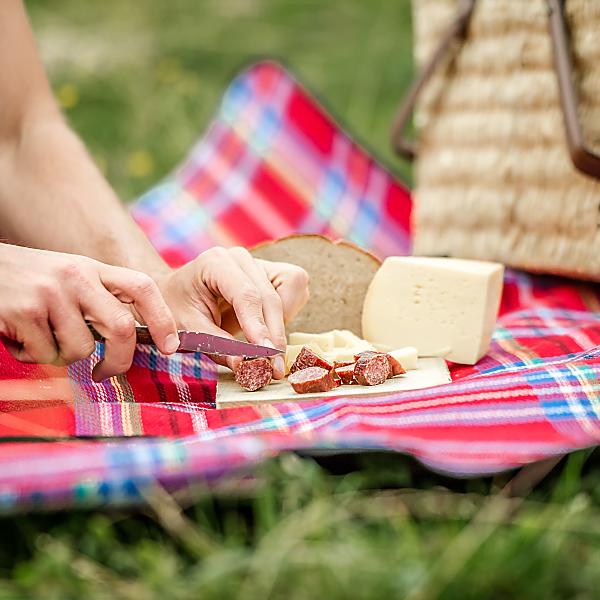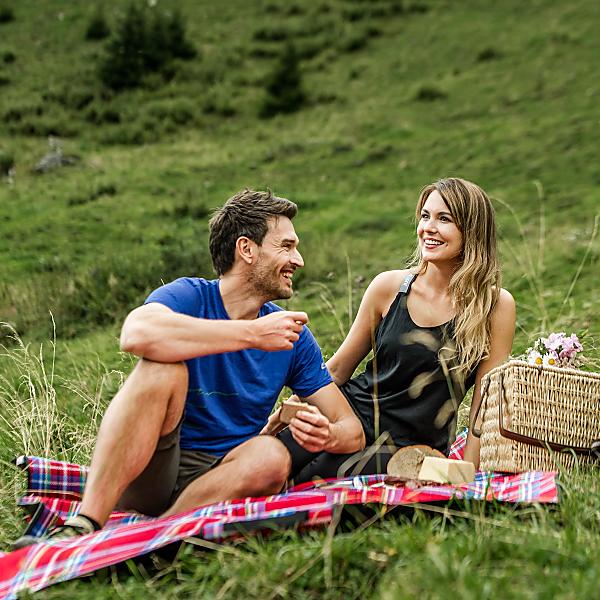 Hiking snacks for hiking in Tyrol
Our favourite recipes for your hiking tours in Austria
Hiking in Tyrol, Austria, means going on an adventure in one of the most beautiful corners of the country. All around our hiking hotel, each and every outdoor fan will find the right tour for themselves: from relaxed trips down in the valley to long tours around the green mountain pastures and challenging peaks. But one thing is always necessary: the right hiking snack. Us Tyroleans are particularly known for the "Jause", a traditional snack eaten in the afternoon, certainly not only on hikes. A Tyrolean Jause consists of brown bread, Tyrolean "Speck" (bacon), cold cuts and cheese. We also like to combine gherkins, radish, or other types of fresh or pickled vegetables with it. Even though these traditional foods are still loved by hikers, lots of other options for healthy and delicious hiking snacks are available today, which fit every need and every taste. Today, we would like to present you three of our favourite recipes, as well as some general tips for choosing the right foods to bring to your hiking tours in Austria.
Hiking snacks – a quick how-to
You should start fuelling your body for a hike on the evening before. We recommend a dinner with lots of healthy carbs and protein. At Hotel Elisabeth, you will not only receive that, but also fresh and regional ingredients in lovingly prepared culinary creations. For breakfast, you should have a balanced mix of grains, fruits, and dairy products. On our healthy breakfast buffet, you can help yourself down to your whim. But what should you pay attention to when packing food and drinks on your walking holidays in Austria? A hiking snack should be able to quickly replenish your energies and be easy to store in your backpack. For example, a banana would be less ideal than a wholemeal bread with cream cheese, vegetable sticks or nuts. If you still prefer fruits, then an apple or a pear would be more practical. And don't forget to stay hydrated! Upon arriving at the destination of your trip, it's good to take a longer break and enjoy a more substantial meal. Apart from the traditional Tyrolean snack we presented earlier, you could also enjoy the following:
Creative bread toppings
Whether you're lactose intolerant, vegetarian, vegan, or just in search of some change: not everyone likes the usual bread with cheese, cold meats, or bacon – and that's fine. You can prepare a delicious bread in countless variations! How about a healthy, plant-based spread? Among dozens of flavours from tomato-basil to apple-horseradish, everyone can find their favourite! What's also great to put on bread: homemade hummus. And to finish it off, you can add herbs, roasted mushrooms, dried tomatoes, or fresh salad leaves.
Noodle salad
Your walking holidays in Austria shouldn't only enthuse you with dreamlike panoramic views and fresh mountain air, but also with tasty highlights. If you're up for some change, you might want to try bringing a noodle salad. Thanks to the carbohydrates, it will keep you full for long, while also providing tons of vitamins and other nutrients through fresh vegetables. Some of our favourite variants: tagliatelle with oranges, bell pepper, tomatoes, feta cheese and arugula, or wholemeal pasta with dried tomatoes, spring onions, feta cheese, arugula and pignolia. Season with vinegar, oil, and spices to your taste. The fresher, the better!
Couscous
You don't have to get your carbs just from noodles. Couscous is a great alternative that's low-fat, high fibre and rich in vitamins. It has become a popular ingredient even in European cuisine, and it makes for a great base for your salad. You can cook it in just a few minutes and combine it with all your favourite vegetables. A good seasoning is olive oil, lemon juice, salt, and pepper. As a creative topping, you can use raisins, fresh mint and/or yoghurt. If you prefer a more oriental taste, you can season with other spices, like coriander or garlic.
No matter if you can't picture hiking in Tyrol, Austria, without the traditional cheese and bacon, or if you like experimenting with new and creative ingredients and recipes – at our hiking hotel we provide you with everything you need before and after your hiking tours in Austria, freshly and deliciously made from regional ingredients. That's because at Hotel Elisabeth, not only your feet, but also your palate will be walking towards a perfect holiday bliss.
Be sure to send us a request for your best hiking holiday so far!